Caf-e-Lite©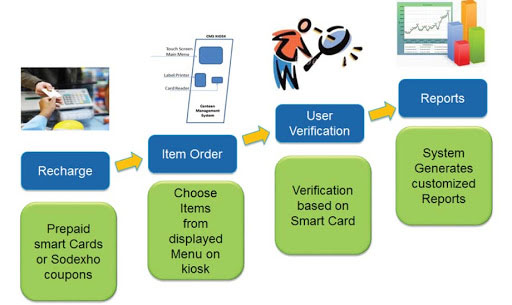 Many organizations have their own canteen or facility on contract to provide food/meal at economical price for their employees. Caf-e-Lite© design provides a user friendly system that facilitates quick and efficient operations to cover larger groups of employees within a specified time. Caf-e-Lite© is designed to eliminate the coupon system and also to have the cashless transactions at the Point of sales. This system is also compatible in a scenario where multiple Caterers operate in a closed environment or at multiple locations.
Advantages:
Do away with manual system of maintaining the coupons
Instant information at your fingertips for immediate use
Supports both Prepaid and post paid methods of accounting
Linkage to payroll package for direct debit facility
Caf-e-Lite© can be implemented in an organization where the employees have cards (any type of identification cards) for unique identification.
Caf-e-Lite© can be integrated with an existing (or new), Personnel Information system, Time and Attendance System and Access Control System etc.
Caf-e-Lite© takes care of subsidies provided by the companies to their employees.
Manual entry of transactions is feasible.
Daily limit on the amount for the usage of canteen facility can be preset.
Daily menu creation by the caterer is possible using Caf-e-Lite© Admin module.
Coupons can be used for making transactions.
Reduces Wastage of food items.
Ease in selection from menu by Caterers.
Advance information on the usage of the canteen facilities by the employees on any particular day or shift can be notified to the caterers.
Different types of reports can be taken with respect to Employee consumption and with respect to daily sales by the canteen
Challenges in Manual Systems:
In case of Multiple Locations of canteen consolidated utilization is required which is very tedious or almost impossible in case of a manual process.
Multiple items management
Multiple vendor management
Employee shift management
Effective inventory management
Re-ordering of items to be managed in order to restock at proper time.
Subsidized food tracking
What we offer:
Self serve Kiosk based System
Mobile App Based Solution
Desktop based operator
Toush panel based system
There will be three modules required to run Caf-e-Lite. We have named them Server Module, Managing Station Module, Client Module and Reporting Module
In Server module, it will be required to create all master entries location wise. This is a onetime exercise to create the database. However the authorized person who has access rights to change in application can change the master entries any time.
In Managing Station Module, we have options for project based visitors. Visitors who have come to the premises for a project can avail the meal facility or an employee who has forgotten his card at home.
In Client module, we have option to select the meal items. Whenever a user swipes the card, the selected item's entry will be stored in the database and related information will be shown on the GUI.
Areteinfo also has mobile app based canteen management system. In this a user can book a meal on the app and the same info goes to the vendor app for preparing the meal and user gets a QR code on his app. User can then go to the canteen and get his order by getting his QR code scanned by the vendor app.