AccessPark©
The need for efficient management, maintenance and security of parking zones in corporate and public places like, colleges, shopping malls, offices, hospitals etc., is rising with the ever increasing number of cars day by day. To counter this drastically increasing need and with a focus on urban development optimization, Areteinfo has developed AccessPark© Solution. With a special combination of well experienced hands, advance technology, accurate design and practical approach, Areteinfo presents an efficient and cost effective parking access control system. This ultimate parking access control system is designed to identify and manage vehicles in parking lot or gated communities.
Areteinfo's AccessPark© is a method of providing automatic authorization only to the registered vehicles through a computerized system of application software, RFID Reader, RFID Tags and Gate controller. This system accurately identifies and authorizes vehicle movement by providing automatic data capture and detailed reporting, which ensures smooth movement of vehicle through controlled entrances. AccessPark© completely eliminates the obligation of stopping the registered vehicles at barriers gates near parking zones. RFID based AccessPark© is ideal for individuals looking for security and effective utilization of parking volume.
AccessPark© another version is the ticketing based system. This version is more suitable for malls or multi level car parking where user needs to pay to park his/her car. This system consists of parking ticket dispenser at the entrance which generates barcoded paper slip. Paper slip generated at the entry gets scanned at the exit to calculate the parking charges depending on the business rule. User can pay the parking charges at exit and can leave the parking lot.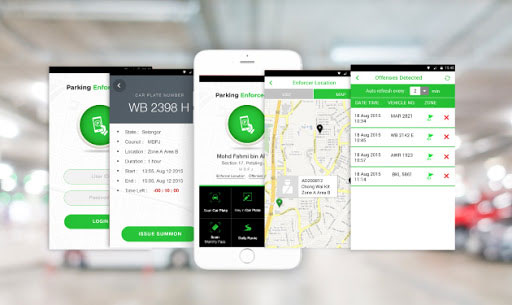 There are numerous advantages of using AccessPark©. To mention few,
Adequate security in parking zones
Easy paper reloading and maintenance
Quicker access during peak hours
Automated identification of registered vehicles
Robust and efficient ticket dispensing mechanism
Centralised control and processing of all car park related transactions
Maintenance of accounting and administration protocols
Revenue control functions that prevent attempts of customer and staff theft or leakage from the system.
Revenue and Yield Management functions to analyse trends and create financial reports – resulting in a greater revenue return to our clients
Management of operational procedures such as staff attendance and daily reports
Modular reporting format to suit the owners needs and return meaningful, tailored information
Automatic Number Plate Recognition System (ANPR (Optional)) – a digital photo image of the vehicle license plate number is captured at the entry and exit points of the car park.
Management and tracking of car park records – simplifying end of day/ month reporting
Based on parking needs, we also offer custom designs, validate customer requirements and deliver optimal solution according to business needs and investment constraints. Our quality oriented team, with customer satisfaction as primary motto, offer standard technical support and best services in the industry. Areteinfo also has mobile app for parking management system. You can search the nearest parking facility, you can search for available parking slots, you can navigate to the nearest available parking. Parking owners can manage the entry, exits and collection from the app.